It all began as a hobby.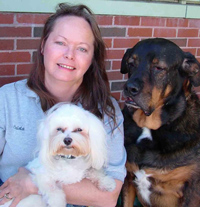 I began training animals in 1969 after checking out two training books from the bookmobile. Thankfully the books were written by two very respected trainers! Our ten year old Chihuahua was my first "volunteer." After training her to show standards in basic obedience, I moved on to my neighbors' dogs, my pet parakeets, rats, cats, rabbits and horses.
In 1972 I got my first show dog, a Shetland Sheepdog, and began competing in conformation and obedience. I was lucky to be taken under the wing of some very good teachers. One of which was an obedience and all breed conformation judge, Harriet "Hap" Pross. I further worked at her 52 dog kennel in the summertime to learn more and have access to many more breeds to train.
Although I landed in the oil and gas industry in 1977 for primary gainful employment, I continued to train my own animals as well as those of friends. Together with 3 partners, in 1999 I co-founded Urban Tails in the Midtown section of downtown Houston.
I made a move that change my life.
In 2002 we relocated with three dogs and four cats to Angola. Good health for my animals was always important, but with this move, in-depth skills in nutrition and natural health care became a necessity.
Minimal pet care resources were available, diseases and parasites were rampant and risk of injury was high. Commercial pet foods locally available were not only inadequate to maintain health. They were of such poor quality that they caused malnutrition and subsequent disease! This necessitated feeding a balanced, species appropriate, fresh food diet in order to instill and maintain brilliant health and prevent or minimize illness.
Word got around that an expatriate had arrived that knew a little about animals. I began receiving calls for help from other expatriates, nationals and even the local veterinarians. My three years there became a crash course in learning and using holistic approaches for human and animal health care – for issues both chronic and in acute crisis situations.
I saw severe wounds to drug and chemical poisoning, urinary blockages, torn ligaments and a host of other issues. I never ceased to be profoundly amazed at how the body can heal if given the opportunity and some gentle support.
Pet/parent partnerships are many-faceted.
There are many elements that work together to resolve issues and create amazing relationships between people and their pets. These include health, behavior, great leadership and effectively speaking the language of the species.
Just like with children, an animal cannot learn if they have inadequate nutrition to think and retain knowledge. They also cannot learn when focused on pain or in ill health. Fresh air, exercise and fun mental enrichment are also important pieces in creating a healthy, happy and engaged pet.
Connect with me!
If you'd like to learn more or work with me to better partner with your pets, connect with me via this contact form. If you're ready to work with me, learn about and request services here.